We recently sat down with Chelsea Manganaro, owner of Nearme Yoga and organizer of the NEPA Yoga Festival, and Scott Jacoby, teacher at Nearme Yoga, in order to learn more about their work and vision for an improved NEPA.  Nearme Yoga will be providing free yoga at the NEPA Green Fair throughout the day, as well as vending a unique assortment of boutique goods, coffee, juice, tea, and buddha bowls from their newly opened Nearme Café in Moosic.
Q: What are your hopes for your newly opened Nearme Café?
Chelsea: My hopes for the café are to be able to provide healthy grab and go food options, but also provide a community aspect as well.  It's become a great place for people to hang out after a yoga class, or whenever they want to have a nice place to get together and chat or relax.
Q: Where is the food for the cafe sourced?
Chelsea: We're actually picking up a greenhouse tomorrow, and most of the food will come from the Greenhouse and my mother's farm in Moscow. All of the eggs for the café come from her chickens.  
Q: What do you think about the relationship between yoga and sustainability?
Chelsea: It helps to be around like minded positive people with similar visions for a healthier, happier community.  We've organized some cleanups with Nearme Yoga, and many other studios embrace community responsibility as well. Yoga also provides optimism for environmental change and helps alleviate depression due to environmental concerns or any other physical suffering one might experience due to injuries. When you're physically out of sorts, you're not able to think about questions like sustainability or even something as simple as holding the door for someone else, because you're so focused on your pain.
Scott: You become more aware of everything you do when you regularly practice yoga, and notice how even small actions can have great impacts, which makes it easier to remember to recycle and compost and limit your footprint the best you can.
Q: What is your overall vision for the NEPA Yoga Festival?
Chelsea: My original vision for the NEPA yoga festival was to connect yoga studios, but now I think of it as more of a way to connect yoga people (yogis). It's a way to help create a community of like minded people who enjoy yoga but also like to know what is going on in their backyard as well. There a number of great vendors at the festival, and we like to remind everyone that the NEPA Yoga festival is "not just yoga," as the slogan for our most recent t-shirt design suggests.
Q: What is your overall vision for NEPA?
Chelsea: I'm full force of trying to get this area up to speed with where we should all be mentally, physically, emotionally, health-wise, food-wise. We're just so behind the times that even the concept of it scares people. It's going to take years to really drive home that this area is behind the times, and there is a lot of work that we can do to become a more sustainable community, but I think we'll overcome any close mindedness towards sustainable practices, just as many around the region are overcoming a close mindedness to yoga.
Scott: I agree. If you drive 2 hours in any direction, you'll see and this concept of sustainability is well-adapted and already happening.
Q: What environmental issues concern you the most within our region?
Chelsea: Garbage disposal is a major concern of mine due to presence of the Keystone Sanitary Landfill, and my own experiences with opening the café. The landfill is one of the biggest in the state, and we have to think about the long-term effects its presence has on our soil and water. Since opening the café, I've also realized that recycling isn't always accessible or encouraged amongst local businesses.  While we work hard to make sure we recycle everything we possibly can at the café, I can see how many businesses might take the easier, and often cheaper route of lumping recyclables with the trash. One way our area might change this is to possibly provide awards for sustainable businesses, and have sustainability become a greater concern for local municipal leadership. Litter is also a baffling problem to me.  I don't understand why, in 2018, litter is still an issue. There should be a way to create the mindset of not wanting to pollute our landscape, especially when so much of it can end up in our water and soil.
Q: What began your interest in yoga?
Chelsea: I've been practicing for 10 years.  I started my practice looking for an answer of what  my next step should be in life, and it turned into my life.
Scott: My interest started due to a serious injury that heavily limited my mobility. I decided to give yoga a try and became engulfed with it, eventually embarking on my 200 hour teacher training.  I've now been practicing 3 years, and physically, I've changed so much. I previously couldn't put weight on my heels due to injuries, had chronic pain in my hip from a hip replacement, and even had trouble sitting for extended periods of time. Now my body feels great and I'm able to lead an active life without pain.
Q: What can you say to those who need motivation to begin a yoga practice or begin a greater commitment to sustainability?
Chelsea: Just do it! Just get here to a class! There's a beginner class every Tuesday night at 7:15 and an intro special of 2 weeks for $20. As for increasing your commitment to sustainability, I also suggest trying it. Smart small and build from that. Just like beginning a yoga practice, there's no tomorrow or good time to start that is better than right now.
Scott: Start by working to actively think about not throwing things away, and make sure you make effort to recycle or compost even though trash might seem easier.
*There will be 3 opportunities to participate in free yoga at the NEPA Green Fair:
Vinyasa at 10:15 AM with Scott Jacoby
Kundalini Yoga at 12:30 PM with Bryan Dewey
Vinyasa at 2:30 PM with Brittany Burger
* The Nearme Cafe is open 7 days a week 11am-3pm offering tasty and healthy selections, including vegan and gluten free options, as well as a warm, relaxing atmosphere.
* This year's NEPA Yoga Festival will be held at Montage Mountain on June 9th, and tickets are available here. Early bird tickets to the festival are available at a discounted rate until April 30th.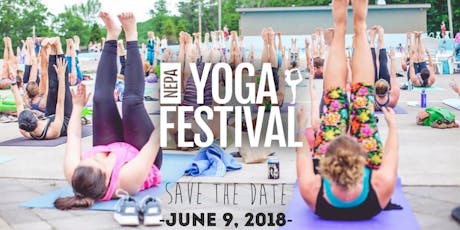 *Nearme Yoga also has a team participating in the 5k for Clean Air, and if you'd like to join the team, you can register for the 5k here.